Towers of Empowerment Box
Everyone has low days, it's only normal. The body and the soul need time off from the distractions of the world to refocus on the essence of life and this is exactly what the crystals in our Towers of Empowerment Box help you to do. The box includes a Rose Quartz Obelisk, Tiger Eye Obelisk, Labradorite Obelisk, Clear Quartz Obelisk, and an Amethyst Geode. 
Rose and Clear Quartz Obelisks 
Rose Quartz can help to prevent thrombosis and heart attacks, improve the circulatory system, and ensure that your heart muscles are as smooth and strong as possible. The stone h
elps heal emotional wounds and invites more compassion and care. 
On the other hand, t
he Clear Quartz is a master healer, bringing with it swathes of powerful positive vibrations, deep soul cleansing, and enhanced patience and prosperity for all those who turn to quietly unique spiritual energy. It s
timulates the immune system and clears your toxins.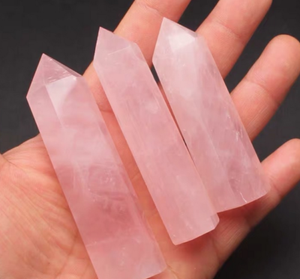 The Tiger's Eye Obelisk
Tiger's Eye invites the wearer to embrace their inner-strength, personal willpower, and to call on the powers of protection. It is known to provide b
alance to the endocrine system and is great for seasonal affective disorder. it helps you emotionally by eliminating negativity within yourself and boosts your self-confidence. 
Labrodorite Obelisk - The Stone of Mysticism
Labradorite teaches us how to bring life-giving energy to all areas of our souls. It's a stone that shows the way to self-soothing, artistic ambition, cosmic energy, and enhancing our own mental clarity. It improves to the your body's respiratory and digestive system and is known to help deal with anxiety as well. It ignites your imagination and brings stability to your mood and your mind. 
Amethyst Geode - Nature's Tranquiizer
Amethyst relieves you from stress, soothes irritability, targets your mood swings, and dispels anger, rage, fear and anxiety. It helps with those facing insomnia and additionally helps in remembering and understanding of dreams. It enhances your body by dealing with emotional highs and lows and helps you spiritually by bringing a sense of calmness to your soul. 
Still haven't received my order